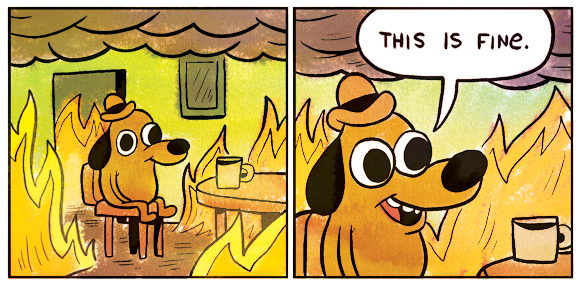 For whatever reason, this comic (by the illustrious KC Green) comes to mind when I think about the past year. Not trying to be a downer — life is, on the whole, pretty good. I think why it feels so emblematic of 2014 is that so much of the year was spent trying to maintain an even keel, some level of equilibrium, as if I somehow had my shit together after a major personal, professional, and emotional shift. Did I actually have my shit together? No. Do I have it together now? Hell no. But it was still the right decision to make those shifts.
Life Update
I've been playing a fair bit of Final Fantasy XIV (Hyperion server, come say hi), which has been a nice escape distraction pastime. I've got two characters (yes, even on a game where you can play every class on one character, I still make alts), and have thus played through the main storyline twice now. It tickles the right mix of nostalgia, new fun and lore, and "the pretty". We'll see how long it holds my interest!
My brother Uriah came down to visit the other week. It was excellent to see him, and I'm glad he had a chance to explore San Francisco a bit. (We also got to see our cousins who live in the area, which is always fun.) We went for a really nice drive down Skyline, into the hills between the Bay and Santa Cruz, down through Big Basin State Park, and then back up the coast. One of the nicest things about it (other than some good brother time) was the lack of cars for most of the trip — it wasn't until we were almost into Santa Cruz that we really hit any traffic to speak of, and there were long stretches where we were the only car on the road, winding through tall redwoods and the random opening out onto valley vistas. It was a nice reminder that some space and nature isn't that far away.
Working through some depression and remnant guilt/overdeveloped sense of responsibility, but that's pretty normal and not really new. I feel like I'm managing alright for the moment, which is a good spot to be.
At some point I'll go back to posting pithy/interesting videos and links and writing essays and reviews and other such stuff that would be interesting to more than just friends. Right now, I'm mostly just glad to have an outlet for saying "I'm still here."
Next: 2015
It may be a month late to do new year's resolutions, but time is sort of wibbly-wobbly anyway, and they're not really resolutions so much as planting tiny little fires under my ass to try and live up to my own expectations and desires.
Travel to at least one place I've never been (preferably in another country).
Create more. Even if it's chaotic and a mess and not what I was trying to do. Because it feels good, and because it's how you get to a point where you DO make what you were trying to.
Take my career next steps. There are a few things I'd like to explore.
Start dating again. It's been over a year. It's time.
Save some money. It's a good idea in general, and there are also some known expenses that will inevitably be coming (e.g. my car won't last forever, and it'd be nice to not have to scramble to replace it when it dies).
Make some new sites/redesign this one. Gets back to that "create more" thing. Too many of my ideas are "needs regular use/updates" projects, but can't hurt to make them anyway, or come up with some one-off pages/sites.
These are my own goals/expectations/resolutions/desires/whatever-you-want-to-call-them — I'm mostly posting them for myself. That said, feel free to come up and ask me what I've created lately, or help brainstorm places to visit.