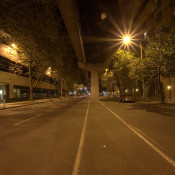 Last night, I spent a fair bit of time out and about — simply didn't feel like going home, for a variety of reasons. I hung out at the coffee shop til they closed, and then took their recommendation on an all night diner, which was delightful, greasy, and good. Jabbered there for a bit, and then I ended up wandering down to downtown Seattle to finally get around to taking some shots for experimenting with High Dynamic Range photography.
For some quick background, let me fill in some details (CS2s "Merge to HDR" doesn't retain exif data… which makes sense, since it's a composite of multiple images, so which exif data do you keep?): it's around 1:45am, on 5th Ave just north of Teatro Zinzanni. For those not aware, Seattle has an elevated monorail system that runs down the middle of 5th Avenue, connecting downtown with Seattle Center, which would be the pylons you're seeing running down the middle of the street (and providing a handy protection from getting run over while standing in the middle of the street). This particular image is a set of 4 images composited together, each a 1/3 stop apart, with a roughly equal balance between over and under exposed. In hindsight, I wish I'd gone heavier on the under-exposed range, even a full stop apart, and opted for the "proper exposure" to act as my high end. As it was, I ended up dropping a fifth over exposed image from the composite, because I found it too "bright". I was running at f/22, with an exposure time ranging from 13 to 30 seconds, and using my 17-40mm f/4.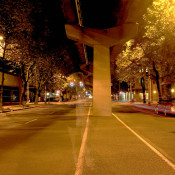 The next set is a composite of around 7 images, of which I dropped two. I decided to play a bit with ghosting (go stand in frame for part of a long exposure). It's also worth noting that this set had a few cars passing through the frame, which left those delightful light trails on the right side of the image. Again, I was running f/22 with the 17-40, and a range of 13 to 30 seconds per exposure. I'm not entirely sure whether I'll keep the ghosting (I took two shots at the same exposure, one with ghosting, one without, so it'd be easy enough to alter it without affecting the rest of the composition).
It felt really good to be getting out and about with my camera in the night again. I don't know why I find it so appealing, but I do. Maybe it's the introvert in me. In either case, it was rolling past 2am, so I opted to pick up and move over to a different location, further into the city. I've been wanting to take some pictures of the Seattle Library for a while now, as it's this awesome conglomeration of odd angles and glass, right in the heart of downtown Seattle. (How they managed to get the city planners to approve it, I dunno, but I'm very glad they did!) Another nice aspect of doing night photography in the city is that parking is a breeze. No traffic, no passersby, plenty of spots to just kinda pull over and fiddle with things or ponder grabbing the camera. In both of these cases, I was able to park no more than 50 feet from where I took the shots.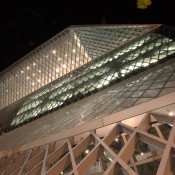 This first shot is a composite of 6 or so shots, and once again I found myself dropping the higher exposures, ending up with a 4 image composite. Not that you can tell, to be honest — in the case of the Seattle Library shots, frankly I'm not gaining much of anything from the HDR process. The building is already relatively well lit, so I'm not filling detail into shadows or highlights, nor pulling much of anything in the way of a higher saturation of color (even with the heavily orange light of the streetlights). But, I still like the shots, and so I'm sharing them anyway. (This is definitely a picture-heavy post.) Again, f/22, speeds ranging from 15 to 30 seconds, with the 17-40mm. (I should also mention: Canon 5D, running RAW.)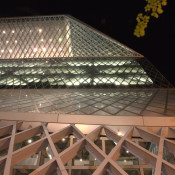 This second shot is similar to the first, though from a slightly different angle that was apparently enough to alter the metering markedly, to the point that I ended up dropping down to f/16 just so I could avoid using the Bulb function, keeping my max exposure length at 30 seconds. Other than that, it's largely unchanged… half a dozen shots, once again dropping the higher exposures (something to know for the future for the shots I like to take), taken with the Canon 17-40mm f/4. It's such a neat building! I'd love to get in there at night sometime, to be able to photograph the interior (also trippy and fun) without pesky people all over the place. Anyone have thoughts on who to talk to about that?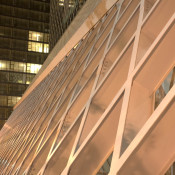 Alright, this is the last set (I'm calling it a set despite being a single image because it's a composite, if that makes any sense). I decided to try a different angle, and really ended up enjoying how this came out. It's notable that you actually can see into the windows of the building across the street better than you could that night (THAT would be a benefit of the hdr merging), and the mishmash of geometry between the grid of the library and the building across the street I just found really pretty appealing. I like how you get a mesh feeling from the reflection of the library in the other building.
Overall, it was a really fun evening, and it felt great to finally get to experiment with something new. I wouldn't exactly call any of these images exceptional, but I think they came out decently enough. I'm looking forward to heading out in the evenings some more, though given that I start work again next week, I imagine I will be somewhat curbed in my late night escapades (so unfortunate, this "needing money" thing). Days like this that I wish this work was salable, and for good enough money to do it for a living. Going around and taking late night photos of the urban landscape sounds like a pretty awesome career to me!